What is Blackjack?
Blackjack is a game that is easy to play, but quite difficult to master. This card game is usually played by two or more players and a dealer. At the beginning of the game, you place a bet, then the dealer gives you two cards. The dealer also deals two cards for himself. The goal of blackjack is to beat the dealer by no more than 21 points.
Blackjack is played by at least two people and a dealer.

The dealer is your opponent who you need to beat.
Blackjack is available in several varieties. You may see one or both dealer's cards, depending on the type of game. If you score 21 points during the game, you win the game. However, Blackjack can also be won if the dealer happens to exceed 21 points. Before you start playing, it is important to understand the rules of the game.
Basic Blackjack Rules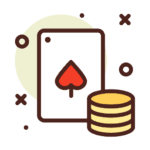 Always remember that the goal of your game is to beat the dealer by scoring more points, but not more than 21. When you are holding an Ace and a 10, this is called Blackjack. As a result of this combination you automatically win. Your bet is multiplied by 1.5 to increase your total winnings. The combination will not work if the dealer has the same combination.
Blackjack can only be formed with an Ace and a Ten. The Jack, Queen and King are each 10 points. The Ace can be either a 1 or an 11, depending on which combination is most beneficial. Cards with numbers 2-10 keep their corresponding value: if you are dealt a card with the number 6, its value is 6 points.
Blackjack is called an ace and a ten.

Each card has a certain number of points.
Blackjack basic terms
If you have not played Blackjack before, some of the game terms may confuse you. For example, a push bet is something that creates a draw – when the player and the dealer create the same combination value. Your bet will be refunded if you have a push bet. Upcard is the dealer's card that you can see. This gives you an idea of what Blackjack strategy is necessary.
Even money is an often-used term. It describes a 50/50 or 2:1 ratio. It is also necessary to know the term Bust. Bust is when the value of the dealer's cards or the value of the player's cards exceeds 21 points. The box in which card decks are kept is called a shoe. In online casinos it is a virtual box. In live games, a real deck of cards.
Soft Hand and Hard Hand
Soft Hand is the term used in a situation where an ace can be either 1 or 11. Hard Hand is the term used in a situation where an ace can only be 1. For example, if the value of your card combination was 18 and as an additional card you received an Ace, its value can only be 1.
Making the game easier
To make playing blackjack easier, it is advisable to learn the above terms. Without them, it will be difficult to understand the gameplay, other players' conversations, and the dealer's remarks. If you're thinking of playing blackjack regularly, these terms should definitely be memorized. In order to learn them easier, we recommend using them during the game itself.
Blackjack player's moves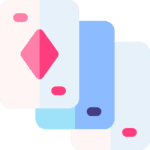 Of course, in order to play Blackjack, it is necessary to become familiar with the player's moves and their meanings. There are a total of 6 player moves: stand, hit, double down, splitting, insurance bet and surrender. The term stand is used when the player no longer wants to receive additional cards. Hit is used when you want to request additional cards to use the combination with a higher value.
Hit and double down are very similar, but with double down you not only get an extra card, but you also double your bet. Surrender is a deal, choosing this move you get half of your bet back. Splitting is the dealing of cards. If you got two identical cards, you can deal them, getting additional cards. You can then make two combinations.
The Blackjack terminology must be learned and understood.

Each move has its own meaning.
Basic Blackjack Strategy
When blackjack rules are clear, it's time to get ready to play. To get a better chance of winning at Blackjack, it is recommended to look at different strategies. All of the tips described here will help you better understand when to use them and help increase your chances of winning the game.
It is important to know when to ask for an additional card, i.e., hit, and to know when to stop, i.e., stand. It is very important to know the situation in which you can double down by taking an extra card and doubling your bet. In order to successfully play cards in Blackjack, it is important to know when to surrender. Not all casinos give players the option to surrender, but it is important to be prepared and know when to do so.
When should you ask for additional cards and when should you stop?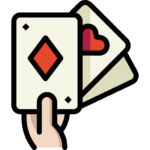 The player hit, or requesting an extra card, is the most common move players make when playing Blackjack. It is important to understand when to do this move. It is recommended to ask for an additional card when your hand is 11 and the dealer has an ace. Or, when your hand consists of 8-12, but the dealer has an open card – a seven, an eight, a nine or an ace.
It's especially important to stop playing in time. If you stop, but the dealer's hand exceeds your hand, you still have a chance to win. It is recommended to stop in a situation where the value of your combination is 17 or more. When you have a pair of tens or a pair with kings, queens or jacks, you have a better chance of splitting the cards, but it is better to stop.
You can't ask for additional cards in any circumstance.

Stopping at the right time is one of the hardest things to do.
When to double down and, when to split the combination?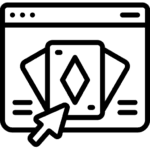 It's best to take an additional card and double your bet when your combination is 11 and the dealer's open card is not an ace. Doubling your bet is beneficial in a situation where the value of your cards is 10 and the dealer's open card is neither an ace nor a ten. This Blackjack strategy will help you get closer to winning.
Sometimes splitting a combination is one of the most beneficial moves. Splitting pairs gives you two of the same combination, which gives you a better chance of winning the game. Always surrender an eight, no matter what the dealer's open card is. Sixes and sevens can be split if the dealer's open card is a six or less.
Surrender in Blackjack
Many Blackjack games do not allow you to surrender, but some casinos do allow it. It is recommended to surrender when your hand has a value of 16 (unless it's two eights) but the dealer's open card is an ace, a ten or a nine. Giving up is often more beneficial than continuing to play, because giving up will give you back half of your bet.
Possible outcomes
When playing blackjack, there is a very high probability that you will not win the game. That's why it's important to know the outcome of the game. If your card total is greater than 21, you lose. If the card total is 21, you win the Blackjack combination. If the total number of points is less than the dealer's, the bet is lost as well.
Tips for a better Blackjack game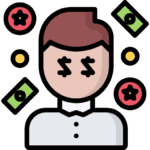 To win at Blackjack, it is advisable to learn the very basics of the game – the Blackjack rules. Beginners should also learn to manage their bankroll in order not to spend all their money too quickly. It is better to start playing Blackjack with lower limits to understand the betting rhythm. Read all the rules on the casino website to avoid unpleasant situations. A basic Blackjack strategy will also help you succeed – study and start using it!
Avoid playing Blackjack where the betting ratio is 6: 5. It is more profitable to play with a ratio of 3: 2. It is also recommended to avoid the "Martingale" strategy. It involves doubling your bet every time you lose. But don't worry, skills will come with experience! The main thing is to learn from your mistakes and not to repeat them again.
The most important thing about Blackjack
When playing Blackjack, it is important to remember all of the above information. Blackjack strategy is very important for a successful game. Use Blackjack terminology when communicating with other players or dealers in the game. Don't confuse the names of the moves when it comes to high stakes, don't make mistakes! If you are a beginner, be sure to start with low stakes. Learn how to play, and make higher stakes later, when you have more experience.
Don't give up on the first difficulties. The game of Blackjack is complicated – it takes time to understand and learn how to play it. Some online casinos offer to play blackjack online for free. This is a great opportunity for those who want to learn the game before placing real bets. Learn, bet and win!
Frequently Asked Questions
Of course! Almost every online casino in Latvia has a live casino that features blackjack. In addition, when you play blackjack online, you play against a real dealer and it makes you feel like you're in a real casino.
Blackjack strategy can vary, but you can ask for an additional card in the following situations, for example:
Your combination consists of 8-12, but the dealer's opening card is a seven, eight, nine, ten, or ace.

The value of your hand is 11, but the dealer has an ace.

The value of your combination is 10, and the dealer has a ten.
Sure! The minimum bets in Blackjack are very low most of the time. Sometimes you can bet a few tens of cents.
The original name Blackjack comes from the French "vingt-et-un", which translates to "twenty-one". The modern name originated in the 1930s, when U.S. casinos lured players with high stakes for certain combinations – ace of spades + jack servant (black jack in English). Although the generous winnings quickly disappeared, the enticing name has been kept to this day.