In an enchanted world; there are evil and good forces. Do you believe in witches? Throughout history, we've read about witches doing all sorts of scary things. They actually don't have a good reputation because they aim to destroy and do evil wherever they are. The Book of Enchantments slot is ideal for gamers who love fantasy and drama entertainment videos as Pariplay studio invites gamers to a powerful witch's house.
Book of Enchantment was released 28 Oct., 2021, by Pariplay. In the game, players must battle evil forces because the danger is felt everywhere, and dragons hover over the sky. When you play, you need to be mindful of the beautiful sorceress who looks fierce and powerful because she can be ruthless. This slot is unusual in that it has five reels instead of just three. There are three characters in reels one and five, four in reels two and four, and five in reel three.

What We Like About This Online Slot
What we love the most about Book of Enchantments is the uniqueness of its design and theme. This online slot falls into Pariplay's best category of "Book of" slot games; you will definitely enjoy the plots of the beautiful witch and some adorable animals. Book of Enchantment comes with 3D visuals, enabling users to have the best gaming experience. Lastly, the rewards and promotions offered by this online slot are to die for!

Where To Play Book of Enchantments For Real
Reviewed and Verified by Marcis Licis

Bonus up to
2000€
+
200
free spins
24/7 customer support
Wide variety of payment options
Huge welcome bonus

Get
100
risk-free spins on Book of Dead
Support service works 24/7
You can play even when the internet connection is poor
A solid variety of game and bonus offerings


Enormous game selection
Fast transactions also via Bitcoin
24/7 online customer support
Book of Enchantments is available at many online gambling sites and was created with the latest HTML5 technology. To play this delightful slot, you will only need an electronic gadget (Android, IOS, laptop, tablets, etc.). But before playing, you'll have to search and find a mobile site that has a good reputation and is suitable for you. Then, on your chosen mobile game website, you will find two options to play, one stating "play for real" and the other "Demo for free." Selecting the "play for real money" option will then ask you to deposit some funds into your account, while the "Demo for free" option enables you to play as much as you want while improving your gambling skills.
Book Of Enchantments Theme
The grid is placed inside a sorcerer's residence, which is surrounded by wooden chests and books. One of the things we love about this slot game is the high-quality design and animation, which is similar to a movie's visuals. Book of Enchantments features wild symbols, magic books, and expanding symbols. The symbols include the ruthless antagonist, sapphires, dragons, topaz, a steed, and amethyst. There is what we call a sticky wild symbol in this game; this symbol resembles a pumpkin and will assist you in matching winning symbols. If you connect five symbols on a reel, you will win 150x your bet.
Sound & Soundtrack
The sound of the online slot games is spooky, catchy and fun. Pariplay focused on giving customers a spectacular soundtrack to keep them entertained and happy. There is no room for boredom when playing Book of Enchantment, as you will be mesmerised by the enchanting background music whether you're home or on the move.
Bonus Feature
The Wild symbol resembles a beautiful sorceress and will replace other symbols on the reels. Additionally, there are two Scatter symbols that can easily trigger free spins – the Magic Staff and Spellbook.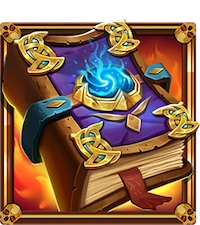 Free Spin Feature
If you match three or more Spellbook Scatters on the reels, you will be rewarded 10 free spins.
Also, if you connect three or five Magic Staff Scatter symbols, you will get 10 more free spins. During the free-spin phase, all Wild symbols change to Sticky Wild, meaning they will remain in the same position until the round is finished. Also, if you match two Sticky Wild symbols, the reel automatically will create a locked Wild Reel giving you more odds of winning the game.
Money Respin Feature
When six or more coin symbols match on the reels, the Money Respin feature is activated, and the coin symbols change values — some can be major jackpots, and some can be mini jackpots. And if every reel on the 5×3 grid has coin symbols, your reward will be higher as you will receive a grand jackpot.
Pros and Cons
Everything has advantages and disadvantages; here are some of the good and bad things about Book of Enchantments:
Pros
The website is well-designed
Good visuals, animations, sounds, and 3D video
Basic symbols expand all through free spins
More wilds on the grid will create a whole wild reel
Increased chances of winning because of the Scatter and Wild icons
Cons
Not all gamers are fans of spooky visuals
Its maximum win of 3,132 is less than its competitors
It looks similar to other online slots, while gamers seek more uniqueness than games of different online slots
Tricks Of Book Of Enchantments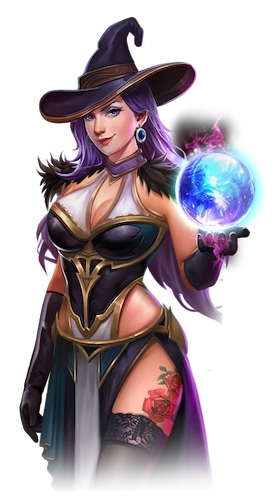 To become a good gambler, you need to learn tricks from other experts. Experts have been there and tried it all to become who they are today. So, the perfect example to follow is from one who knows all beneficial attributes. Gambling is a tricky game, so you need to study all possible tricks and practice them on the Demo for free option. Mastering the game might take you time, but it's worth it!
Once you've gathered enough information on experts, you can now think of how you can master the Book of Enchantment slot:
Never go for maximum bets; start with the minimum wager
When you get to lose more than three spins, please don't wait for all of them to finish. Start doubling your spins.
You have to keep playing; as you do so, lower your wager by two to three spins.
Once your winnings become massive, please do not risk it
You will need to obtain 800 spins to become a great winner
Turn on the betting limits; you do not want to exceed your average daily bets. The online slot will not let you wager more than your daily limits. All online slots gambling sites seek for punters that are responsible when playing.
RTP of Book Of Enchantments 
The Return to Player (RTP) of the Book of Enchantments is 96.24%, which is higher than the industry average. As for the maximum win, it's capped at 3,132x of your wager, making it satisfactory. Plus, the game has average volatility, which means players will be able to receive bonuses and rewards more frequently.
Should You Play Book Of Enchantments
There is an age requirement to play this game, and gamblers must be above 18. This game is just a click away from you; you do not have to drive at any physical casinos. You can be anywhere in the world and still partake in this online slot game. All you need is a mobile device with a good internet connection. The reasons why gamers should play Book of Enchantments are because:
They have full control over the game
The minimum wagering amount is meagre
Withdrawals rates are pretty high
There wouldn't be any noise compared to traditional gambling sites
There is an alternative to improve your gambling skills
The game is entertaining
Bonuses are so overwhelming
There is no time to be bored
Software Provider
Book Of Enchantments was created by Pariplay known as in-house studio Wizard Games, a Gibraltar-based licenced online slot provider that launched in 2010. Since then, PariPlay has been one of the leading slot providers, delivering the best games with incredible visuals. At first, it was an independent enterprise, but today it is part of the Aspire Global family.
Pariplay has also been approved by numerous oversight organizations, including:
New Jersey Division of Gaming Enforcement
Gibraltar Gaming Commission
Romanian National Gambling Office
United Kingdom Gambling Commission
Malta Gambling Authority
How To Play For Real Money
Playing for real means having higher odds to win real cash prizes. This strategy is where one places a bet of a certain amount then cash rewards depending on the performance of the gamer. There are a few things you need to know about how to play for real money:
You first need to select a reputable online gambling slot and create an account
Log into your account and search for the icon that says "play for real"
Wait for the game to load, and choose a bet and deposit
Then press the spinning icon, and you're set to play for real money!
How To Play For Free
Most online slots offer a demo mode; all you have to do is click on the Demo button and follow the site's guide. Here is how you can play for free:
On your selected website, log in to your account.
Search for the Demo button or one that says "Play For Free."
Find the Book of Enchantments slot
Now you can play for free without losing any real money.
5 Casinos Where To Play Book Of Enchantments
These casinos are secure and safe to use.
They are well-designed and licensed, and their games are fully operational. If you encounter any difficulty, check with customer assistance to help at any time.
Final Thoughts
We are really impressed with the Book of Enchantments in terms of visuals, design, features, and more. Even though this online slot was released in 2021, it doesn't change the fact that it has one of the best collections of sounds and graphics. The most concerning point about the Book of Enchantments is its average volatility. Winnings might be smaller than expected, which is advantageous for those with large bankrolls, but it could be a struggle for players who are not financially stable. Using the high RTP, it is possible to vary your bet's value slightly. Book of Enchantments is mobile-friendly, meaning you can play wherever you are.
Book Of Enchantments FAQs
Here are some fundamental questions that will give you more highlights on the Book of Enchantments.
Is Book Of Enchantments Safe To Play?

These online slot games are tested, and we confirm that they are safe and secure to play. All you have to do is find an online casino that has it.

Is Book Of Enchantments Available On Mobile?

Yes, these games are mobile-friendly.

What Are The Key Elements To Recognize A Good Online Slot Site?

To recognize an excellent online slot site, you need to check if they're regulated, their themes, the variety of games provided and their bonuses and promotions.

What Is The RTP of Book Of Enchantments?

The Return to Player (RTP) of Book of Enchantments is 96.24%.

Does Book Of Enchantments Allow Deposits?

Yes, it does. Your wins depend on your bet on each game, so opt to bet more.

Who Is the Book Of Enchantments Developer?

Book Of Enchantments was created by PariPlay.

Is PariPlay Licensed?

Yes, PariPlay has been approved by the New Jersey Division of Gaming Enforcement, Gibraltar Gaming Commission, Romanian National Gambling Office, United Kingdom Gambling Commission, and Malta Gambling Authority.

When Was The Book Of Enchantments Released?

This slot was released on 28 October 2021.

What Are The Bonuses This Online Slot Offers?

The bonuses you will find at Book of Enchantments are free spins, and money respin.

What Are The Symbols In This Online Slot?

There are scatter symbols (Spellbook and Magic Staff) and a wild symbol (Sticky wild).

Do I Have To Register To Play For Free?

Not at all; you can play for free without registering but not to play for real money.

What Is The Book Of Enchantments Maximum Win?

The maximum win is 3,132 times your stake.

How Old Must I Be to Play Book Of Enchantments?

Players must be over 18 to play this game.

What Is Book Of Enchantments Volatility?

It is average volatility, which can be risky for gamers as it can fluctuate at any time.

What Are the Minimum and Maximum Bets for Book Of Enchantments?

The Minimum bet is £0.10, and the maximum bet is £50. Please note that every online slot gambline sites differ regarding min and max bets.

Will I Win The Gameplay If I Follow The Tricks Above?

Yes, as you will be practicing and studying more expert tricks, there is no way you wouldn't win a game.

Can I Play This Game For Free?

Yes, you can play a demo version if your online casino offers it.

Does This Slot Game Offer Free Spins?

Yes, free spins can be rewarded when you match any identical symbols.

Is There Any Progressive Jackpot With This Slot?

No, the Book of Enchantments does not provide progressive jackpots.

How Is Book Of Enchantments Beneficial For Travellers?

Even if you're out of the country, you can still access the game through your phone. Distance will not be a barrier with this online slot.
Was this content helpful?
Thank you for your feedback! We will do our best to improve this content!