Based on the original slot game, Reel King Megaways, this exciting new spine chilling spin-off certainly gets our spooky senses going.
Reel Spooky King Megaways is a Halloween-inspired online slot by none other than Inspired Gaming. This original slot has a vivid animated look and feel with impressive bonus features that will surely get any player excited to take part in these big wins.
An RTP of 95.56% and a medium to high volatility level in this online slot leaves room for exciting opportunities that any player would feel silly to pass up.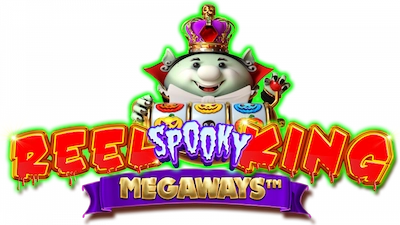 What we like about this online slot
What is not to like about Reel Spooky King Megaways? The vividly animated graphics are undoubtedly eye-catching from the start. The unique symbols also contribute significantly to this rather thrilling online slot. The vastly special bonus features are certainly something to be excited about.
Where to play Reel Spooky King Megaways for Real
Playing Reel Spooky online is relatively easy, which can be done in two simple ways. You can play this online slot directly on the Inspired Gaming website, which is a great way to test out the game before making any commitments. This excellent spooktacular game can also be played on any trusted online casino of your choice.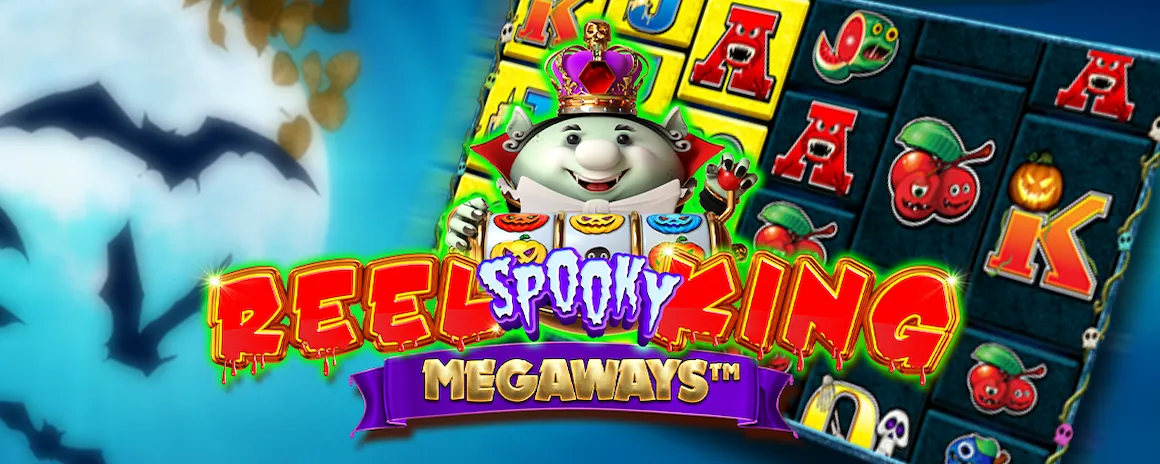 Reel Spooky King Megaways Theme
The theme is all in the name. Reel Spooky King is a classic slot-style game with Halloween-inspired designs and symbols. With an authentic spooky atmosphere to tie it all in, the background starts with a haunted house on a hill, with the moon illuminating the playing board to reveal skulls and spooky pumpkins.
These special graphic features surely does the game justice in creating a slot game that any Halloween lover would adore, and helps create a grand online gambling experience.
Sound & Soundtrack
The player is greeted by the eerie sounds of Halloween, perfectly paired with sounds of reels and spins and bonus features. The spooky Halloween sounds keep players on the edge of their seats, as they work their way through a haunted house searching for big wins.
Bonus Feature
Special Symbols
This game brings a unique twist to the symbols in this classic slot-styled game, which we found to be very creative.
These standard symbols have been animated into something special, as it were, as monsters. The symbols we know so well are A, K, Q, J, 9 and 10.
Additional symbols we need to consider in this game specifically are a potion, cherry, plum, watermelon, a wild symbol and the one to rule them all. The symbol is known as the reel spooky king. These symbols are what contribute significantly to the other bonus features.
Cascades Feature
Each winning combo and free spin that a player attains during this game will trigger a chain of wins.
This means that winning symbols will automatically be replaced from the above reels. This cascade feature will continue as the wins keep happening. If no new wins happen during this feature, it will come to an end.
Lit Reels Feature
This exciting feature is indicated in the game with a "ding" sound.
When the reels light up in yellow, and the "ding" is heard, an additional reel is lit up as well to trigger the cascade feature.
If all 6 reels light up yellow, this will activate the Reel King feature. If an extra cascade is activated past 6, this will start the Super King feature, and if a player wins consecutively after this, then this will activate the best feature of all the Spooky King features.
Reel King Feature
If any of the king features are triggered, this will activate 3-6 mini-slots in addition to the reels. Each mini slot has a single payline.
This payline will indicate pumpkin symbols or blanks to trigger additional wins. If a mini slot has 3 reels lit up, this will move players into the Free Spin portion of the game.
Reel Spooky Free Spins
Once a player has activated the free spins portion of the game, the "reel" fun begins. The free spins come with a winning multiplier that is increased with every cascade.
This means this is an unlimited multiplier until the feature ends. The player, in turn, will get to keep all of these winnings.
Pros and Cons
Pros
Lit reels trigger the Reel King Features
Additional 6 mini slots
Free Spin with a multiplier
Significant win on low to medium volatility
Great animated graphics
Cons
Below average RTP
Unable to mute the soundtrack
Max free spins
Tricks to Reel Spooky King Megaways
The trick to winning big and understanding Reel Spooky is rather simple. Study the paytable significantly, and by doing so, you will understand what each symbol does and how they work.
Understanding the symbols and how much they give you per spin or reel will increase your chances of activating the bonus features in Reel Spooky King Megaways and instantly increase your chances of gaining big wins.
Not so tricky now that we have a better understanding of this thrilling online slot game.
RTP of Reel Spooky King Megaways
An RTP or Return to Player is a rating or percentage given to a game to indicate how much a player can expect to win from this game in particular.
The RTP for Reel Spooky King is slightly below the industry average at a 95.96% RTP rate.
Should you play Reel Spooky King Megaways
If you enjoy classic-styled online casino slots with an extra twist, we undoubtedly recommend Reel Spooky King.
Although the theme is not unique to the online gambling industry, this game certainly stands out from the rest. The developers have not left out a single detail when it came to creating and developing Reel Spooky, with the attention to detail on something so small such as the low-tier symbols is a massive bonus in our books.
The bonus features alone are enough to encourage anyone to play, regardless if you are a first-time player or a standard high-roller. Reel Spooky King Megaways online slot is the way to go.
Software Provider
The masters behind Reel Spooky King Megaways and many more are Inspired Gaming Essential Entertainment. Inspired Gaming has been dominating the online gambling scene since 2016. The company has an extensive portfolio filled with content, technology, hardware and other software services. Inspired offers its services to online and land-based casinos globally, with over 50 000 machines supplied by Inspired worldwide. Over 170 websites use their games on their sites. Inspired Gaming is certainly essential entertainment.
How to Play for Real Money
Playing for real money in Reel Spooky is both easy and doable. This can be done as long as you have a stable internet connection, and a device such as a desktop computer, a smartphone or a tablet.
Even more so, once you have found and registered with an online casino that has been licensed and follows all of the correct gambling protocols, you can play the game through their website.
In order to play for real money, a player will need to deposit real money into their account. This can be done directly through your registered account on the website that you have chosen. Depositing money can be easy and can be done through a variety of different methods.
You can transfer funds using a bank transfer with either Mastercard or Visa, or you can use alternative methods such as PayPal, Moneybookers or Neteller. If you're lucky, and this is a preferred method that the casino allows, you could even deposit your funds using Bitcoin.
Keep in mind that a player can only payout into their bank accounts from the casino if the same method is used when depositing their initial payment.
How to Play for Free
Reel Spooky King Megaways can be played for free in two ways. Inspired Gaming offers Real Spooky King on their website as a free demo.
This can also be played for free on any online casino of your choice, provided they offer the game. This can also be played on any device.
5 Casinos where to play Reel Spooky King Megaways
Our top 5 casinos that offer Reel Spooky King Megaways:
Final Thoughts
Even though Reel Spooky King Megaways is an addition to the original game Reel King Megaways, it's the perfect theme for any Halloween lover for any time of the year. This game offers unique graphics, spectacular bonus features, and a lot of room for growth in the industry. Any player, whether a first-timer or a veteran, will find this game thrilling and know it is too good to pass up.
Reel Spooky King Megaways FAQ
Is Reel Spooky King Megaways safe to play? 

Yes. Reel Spooky King Megways is completely safe to play. Provided you use a trusted online casino that is in accordance with online safety and protocols. 

Is Reel Spooky King Megaways available on mobile?

Yes. Reel Spooky King Megaways is offered on mobile and is so easy to use. Players can enjoy this game from literally anywhere on their mobile device, they will just need to ensure that they have a solid internet connection as well.

What is the RTP of Reel Spooky King Megaways?

The RTP or Return to player is a rating or percentage given to a game to indicate how much a player can expect to win from this game in particular.

The RTP for Reel Spooky King is slightly below the industry average at a 95.96% RTP rate.

Is Reel Spooky played for real money only? 

No, this game has a demo play option available to players. This can be accessed directly on the software providers page, Inspired Gaming Essential Entertainment, or any online casino site of your choice. Here, you can place bets with virtual coins instead.

What is the highest paid symbol in this game? 

The highest paying symbol in Reel Spooky King Megaways online slot falls under the top-tier symbols and is definitely the potion symbol.

What is the biggest win I can make in this game? 

A player can win up to £250 000 in Reel Spooky King Megaways.

How volatile is Reel Spooky King Megaways?

Reel Spooky King Megaways falls under the low-medium volatility level.

Are there free spins in Reel Spooky?

Yes, there is a free spins bonus feature in Reel Spooky King, this can be activated by a player at any time if it lands on one of their reels.

What does the Reel King Bonus mean?

Reel Spooky King Megaways offers a variety of bonus features. The Reel Kings feature is one of them, this offers 6 mini slot games to players and awards additional wins on top of their initial wager. This feature also allows the players the potential to earn free spins. However, when a win is no longer being hit by a player on their reels, the Reel King feature will end.

How many ways can I win Reel Spooky?

A player has so many ways to win at Reel Spooky King Megaways. Specifically, a player can earn real money in 117 649 ways with this game.

What is the minimum amount I can bet?

A player can bet a minimum of £0.20 on Reel Spooky King Megaways.

What is the maximum amount I can bet?

A player can bet a maximum of £20 on Reel Spooky King Megaways.

What software is used for Reel Spooky?

What devices can I use to play Reel Spooky King?

Any device can be used to play Reel Spooky King. How cool is that? A player can use any device of their choice, such as a desktop computer, tablet or smartphone. As long as this device has a connection to the internet, you can play whenever and wherever.

Do I need to download any software?

Most games or online casinos require players to download a casino software client. But with Reel Spooky King Megaways, the developers have made this game available to run on HTML5 and JS (JavaScript) software, which means it can run on literally any device you choose to play on with a browser.

What are the pros to Reel Spooky King?

Here are the pros we found to Reel Spooky King Megaways:

Lit reels trigger the Reel King Features

Additional 6 mini slots

Free Spin with a multiplier

Significant win on low to medium volatility

Great animated graphics

What are the cons to Reel Spooky King?

 

The cons of Reel Spooky King Megaways are as follows:

 What online casinos offer Reel Spooky King Megaways?

A variety of online casinos offer Reel Spooky King Megaways; here are our top choices you can check out:

STS Casino

Mr Vegas Casino

Slotsmillion Casino

Rizk Casino

SKol Casino

Duelz Casino

Mr Green Casino

Voodoo Dreams Casino

Casino.com

LeoVegas Casino

888 Casino

Casumo Casino

Spades Planet

Mr Q Casino

What bonus features are offered in Reel Spooky King?

Reel Spooky King Megaways offers a variety of different exciting bonus features such as:

The Cascades Feature

Lit Reels Feature

Reel King Feature

Reel Spooky King Feature

Super King Feature

Reel Spooky Free Spins

What payment methods can I use to deposit or withdraw?

Players can use many different ways to deposit or withdraw their funds from Reel Spooky King Megaways. First, you should find an online casino that you like and trust, and of course, see if they offer your desired payment methods. 

Once you are happy with your choice, you can then decide what payment method will work best for you. A lot of casinos accept bank transfers made between Mastercard and Visa; if this is not your cup of tea, you are welcome to use alternative methods such as Neteller, PayPal and Moneybookers. 

However, if you would like something that is more along the lines of anonymous and the online casino you are with accepts this specific payment method, payments and withdrawals can be done with Bitcoin too.

What software was used to create Reel Spooky King Megaways?

Inspired Gaming has created all of their games using HTML5 and JS (JavaScript) especially with Reel Spooky King Megaways. By doing this, it has made this game easy to access on any browser for a player. Provided the player has a secure and stable internet connection, they will not have any issues connecting to this game from any device they may be using.
Was this content helpful?
Thank you for your feedback! We will do our best to improve this content!