The Secret Ruin slot is a five-reel and three-row, with nine paylines in total. Launched in June 2019, It's available on all devices. Among the features of the slot are free spins bonuses, wilds, and scatter symbols. In most cases, scatter symbols have a specific function within the slot mechanics. They do not need to be inside the winning combination; you may receive a payout, activate a bonus game, or benefit from the slot's unique features. If you're lucky, they'll magnify your returns.
Secret Ruin is available on both tablets and smartphones. It's compatible with all smartphones and tablets, but the only requirement is that you have an Android- or iPhone-based device. You will surely enjoy the Secret Ruin slot, regardless of whether you're a novice or a veteran. Try playing this game first. You can then make money by choosing a casino from the list of online casinos we've compiled. Play by selecting the wager amount you'd like to play, then spin the wheel to see if you win.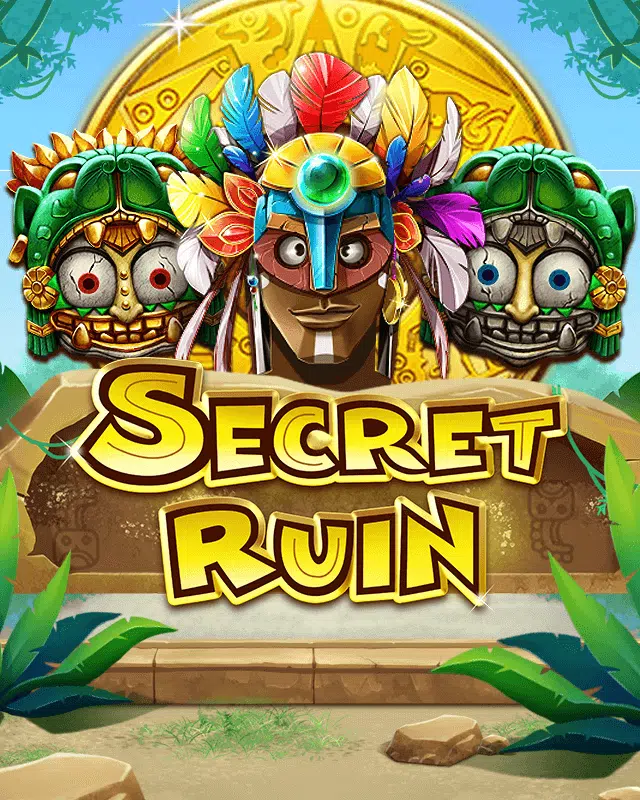 What We Like About Secret Ruin Online Slot
Our favourite thing about this game is that you can discover the hidden Mayan beauty spot that you will surely enjoy playing. The slot game comes with a great soundtrack and several exciting bonus features. If you're willing to join the adventure, you will be able to discover the secret treasure that has been hidden inside the Mayan Empire. There are 9 lines with a unique free game, and everything you need for this game is a sense of adventure.
Where To Play Secret Ruin For Real
In a section below, you will find a list of the most trusted online casinos where you can legally play the Secret Ruin slot for real money in the United Kingdom. We evaluated each casino with regard to its reputation, range of slots, bonus features, software provider, return to player rate (RTP), bonus and promotions, and most importantly, the quality of customer service.
Secret Ruin Theme
Sacred Ruins starts with an impressive visual, a theme featuring ancient civilizations and ornamental symbols, showcasing reels in a stone building. It's a fascinating video slot machine for those who enjoy video slot games, mainly Mayan Aztec slots. Although the game is simple, It's still fun to play, especially since the graphics are unique in addition to the game's excitement.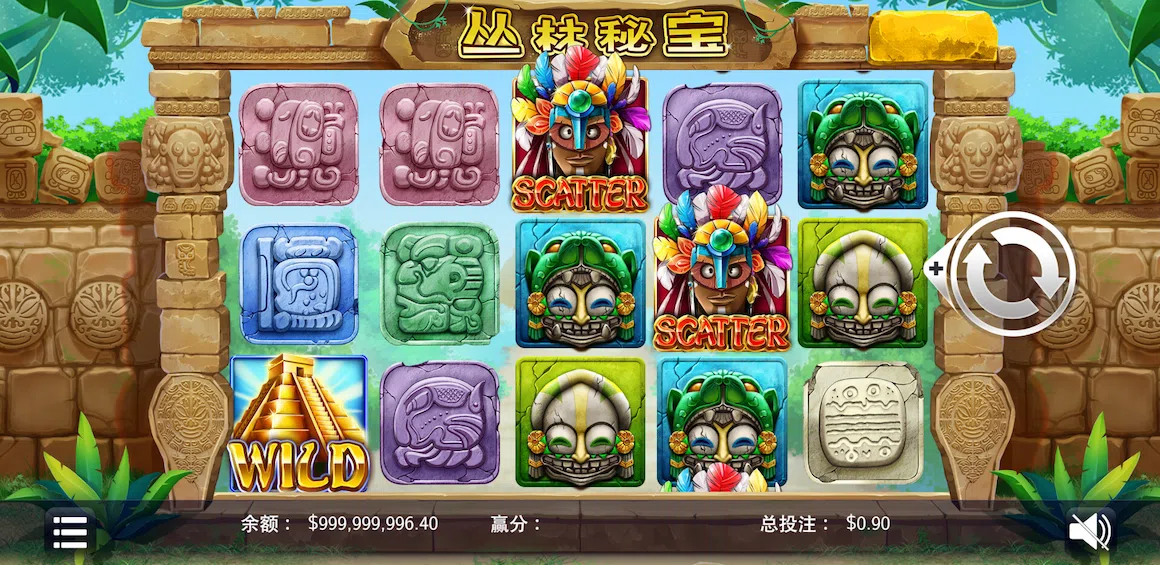 Sound & Soundtrack
There is a background soundtrack running throughout Secret Ruin, and It's perfect for this game. Combining ancient civilizations with adventure sounds provides an enjoyable atmosphere.
Bonus Feature
Bonus features complement the game to make it more appealing and exciting. Some of the bonus features you will find are as follows:
Wild Symbols
The moment a golden temple appears in the middle of your reels, you may be about to win more gold. The golden temples are the wild symbols of this slot game. Wild symbols are capable of substituting for any other symbol on the reels except for the Scatter symbol.
The Wilds symbols can help create winning combinations by substituting for any statue symbol. Suppose you manage to get two green statues on the same row, yet you need another to complete the winning line. A golden temple ( Wild symbol) will still count as a match if It's On either side of them. Nothing is lost if the Wilds are present, so watch out for them.
Scatter Symbol
Scatter symbols can unlock several fun bonus features when you play Secret Ruin, such as free spins and free games. Getting 3, 4, or 5 scatter symbols will trigger the free spins with 10, 15, or 30. You have the opportunity to earn additional winnings if you play the game.
Free Game and Free Spins
Free spins are another very enjoyable feature of the game. This feature, just like the bonus feature, adds a layer of entertainment to the game. It increases the pace and the chances of you winning. When three Scatter symbols appear on the reels (or Free Spin symbols), the Secret Ruin free spins feature will be triggered. A side game is then triggered where you can use your spins, giving you a better chance of landing a big win.
To understand how it works, here is how:
From the scatter symbols, you can unlock this bonus feature. The scatter symbol must appear on the reel 3, 4, or 5 times to trigger a free game with 10, 15, or 30 spins. All wins are multiplied by two at the beginning of the free game. If three, four, or five scatter symbols appear in the free game, it will award an additional five, ten, or twenty spins, respectively. All winnings will be multiplied by four during the free game.
Pros and Cons 
The Secret Ruin slot machine game was released on the internet in 2019. It is an awesome game that anyone can enjoy. However, like any other casino game, it does have its pros and cons.
Pros
Bonus free game
Free spins
A low minimum betting limit
Wild symbols
Scatter symbol
Free spin multipliers
Mobile compatibility
High RTP
Cons
Low maximum betting limits
No progressive jackpot
Low payout potential
Tricks of Secret Ruin
Understanding how Secret Ruin works is necessary before learning how to win. The maximum bet is £90, and the minimum bet is £0.9. It doesn't require much strategy, So It's almost entirely a matter of luck since all players have equal odds of winning.
In general, the player spins the reels and hopes the winning symbols appear along with the multiple paylines. Playing Secret Ruin slots online requires both knowledge and luck. Since games based on luck are entirely random and uncontrollable; you cannot control the outcome. however, you may increase your chances of winning by following these tips:
Practice by playing demo games: Practice makes perfect. So keep in mind this statement and start out with an initial free Secret Ruin trial before you make any real money bets. You'll be able to get familiar with the game and have fun playing the free games. As long as you're playing for free, you have no pressure, and you can learn new tricks about the game as you practice. Also, there may be no-deposit bonuses at your casinos that will enable you to play the game for free and earn a few bucks at the same time.
Make the most of the bonuses: Many online casinos we have listed and recommend often offer bonuses to attract new players. Don't overlook bonuses but instead take advantage of them.
Make sure you understand the paytable: Slot games have their own set of elements that make them unique. Knowing the wild symbols, scatters, and bonuses in the paytable will help you maximise your chances of winning. You can win more money in the bonus rounds by finding out all the information about the bonus symbols. With a game such as Secret Ruin, You can earn more by hitting the multipliers, so know what they are.
Remember your budget at all times: Set a maximum budget before you start playing the Secret Ruin slots. Be sure your budget doesn't exceed the total you wish to pay in the end. So when you reach a certain amount, stop playing. Play wisely and avoid betting amounts that you cannot afford.
RTP of Secret Ruin
RTP is undoubtedly a term you have heard before if you have played slots online. It represents the theoretical percentage of winnings a player receives based on all money earned on that slot machine. RTPs vary greatly among online slots. Some offer an RTP of less than 75%, while others reach levels as high as 90%. The Secret Ruin Slots has an RTP of 97.49%.
Should You Play Secret Ruin
Secret Ruin is an online game that everyone interested in gaming will enjoy and should consider playing. Slot games players are attracted to online slots for a variety of reasons. Regardless of your reasons, you can enjoy the following features in Secret Ruin:
A lot of fun
You get free spins
In-game multipliers
High RTP
Compatibility with mobile devices
Software Provider
Slot Factory provides the Secret Ruin video slot. Slot Factory is a reputable and experienced game development and design company. Additionally, the company produces many other casino games, regulated by the Curaçao Gaming Control Board.
How to Play for Real Money
There are no complicated steps involved in playing Secret Ruin for real money. If you have a reliable internet connection, you'll need to create a casino account. It's a quick and straightforward process. Once you're logged in, follow these steps:
Set your bet size: You will find nine pay-lines in the game, and you can play with as little as 9p per line or as much as £90 per line. Your wager amounts can be adjusted by using the +/- buttons from the menu button at the bottom of the screen. The 'Bet/Line' table will update the adjusted total bet accordingly—the total bet results from multiplying the number of win lines by your bet-per-line.
Check the paytable: By reviewing it, you'll find a listing of all the winning combinations and their multipliers. The paytable can be found in the menu to the bottom left of the screen.
Understand how reel wins work: If you make a match of ancient statues on a win line, you will unlock the secret multiplier power of the symbols, which turns your bet into much greater riches. Three or more of the main statue symbols must be across one of the nine win lines to unlock a multiplier. There will be a highlight on your screen when winnings are added to your bankroll. All wins will be added from left to right. In the menu on the bottom left, you'll find an Info table that tells you how much each statue is worth. There is the possibility of creating multiple winning combinations on a single spin if they fall on different win lines and a multiplier of up to 1073x for the lucky ones.
Press the spin button: It only takes a few seconds for the wheels to begin spinning.
How to Play For Free
No registration is required to play this game for free. Just follow these steps:
Visit any of our recommended online casinos, and they have a variety of online slots.
Select Secret Ruin.
Choose practice or demo mode. You will have the option of choosing either Play For Real or Practise. Click on the practice mode.
5 Casinos where to play slot Secret Ruin 
We have compiled a list of the top casinos where you can play Secret Ruin for real money right now. Slot machines, progressive games, and bonus games are all available, provided by the most trusted software providers. You're able to play immediately.
Final Thoughts
In general, the Secret Ruin slot game is excellent. Compared to other online slots, Its pretty good. The graphics and audio enhance the action and keep you on your toes as things heat up. We recommend Secret Ruin since you enjoy slots with free spins rounds. The Slot Factory team did a good job.
The demo version of Secret Ruin slots is always available for you to try out for free. It would be best to practise as much as possible to learn everything before playing with real money.
Secret Ruin FAQs
What Are The Basics of Secret Ruin?

If you make any combination of ancient statues on a winning line, you will unlock the secret multiplier power, which increases your winnings greatly. A multiplier is unlocked when three or more of the main statue symbols appear on each of the nine winning lines. You can find the value of each statue in the Info table on the left-hand side of the page.

Is Secret Ruin Safe to Play?

Playing Secret Ruin is completely safe. The key is to find a reputable casino that offers Secret Ruin so you can play safely.

Can You Play Secret Ruin On A Mobile Device?

Yes, the mobile version of Secret Ruin is available. No application is required. To play Secret Ruin on your phone and tablet, you simply have to open your browser, go to the online casino that offers Secret Ruin, and play it there.

What Other Games Are Similar To Secret Ruin?

If you prefer the smaller reels with big wins, you will find plenty of 9 line slots at 888, including Reel Fruity Slots Mini. If you're an intrepid explorer, you'll love Cleopatra's Prizes or Tomb of the Wins, which gives you a glimpse of ancient civilisations and their treasures.

How Can I Play the Secret Ruin Slot?

Playing a slots game requires setting a total bet, which is placed with every spin. In your game's 'Bet' menu, you can select your bet per line. The total bet is based on your bet per win line (set yourself in the 'Bet' menu) x the number of win lines in the game (e.g., £1.00 x 9 win lines =  £19.00 per spin). When you're satisfied with your bet settings, you can begin playing slots.

What Can I Do To Win At Secret Ruin Slots?

Secret Ruin slot game features multiplier symbols. These symbols indicate how much your bet is multiplied if you create them on a winning line. The number of symbols required to make a winning combination must be matched or more on a winning line when you spin the reels. When you spin the reels, you can create multiple win-lines simultaneously – the highest-value combination of symbols on each win-line is applied to your bet.

Can You Tell Me The RTP For Secret Ruin?

It's estimated that the Secret Ruins Slots have a return to player percentage of 97.49%.

Is there a bonus feature in Secret Ruin?

Yes, there is. The Secret Ruin video slot has bonus features, including free spins, multipliers, scatters, and wild symbols. Adding these elements to the game becomes more intriguing and exciting.

What Is The Lowest And Highest Bet?

With Secret Ruin, you can set your stake from as little as £0.9 up to £90.

Do you have a free version of Secret Ruin?

Yes, It's possible to play Secret Ruin for free. We listed online casinos where you can play Secret Ruin's free demo version.

How Recently Was The Secret Ruin Slot Update?

According to our records, Secret Ruin was updated by the game provider on 2019-08-09.

With Secret Ruin, Can I Win Real Money?

Yes, Secret Ruin gives you the chance to win real money. Our recommended online casino allows you to register, deposit money, and begin playing for real money right away.

In Secret Ruin, What Is The Function Of The Wild Symbol?

Wild symbols in this slot machine are golden temples. Except for the Scatter symbol, wild symbols can substitute for any other symbol on the reels. When Wild symbols are present, they can be substituted for any other statute symbol to help create winning combinations.

Secret Ruin Uses A Scatter Symbol. How Does It Work?

When you play Secret Ruin, you can unlock several bonus features, such as free spins and free games, with the help of scatter symbols. You will activate free spins with 10, 15, and 30 spins, respectively, if you get three, four, or five scatter symbols.

How Does Secret Ruin's Free Game Work?

It brings a whole new level of fun to the game. If three free spin symbols appear on the reels (or Scatter symbols), you'll activate the Secret Ruin free spins game. To trigger the free games with 10, 15, or 30 spins, the scatter symbol must appear three, four, or five times on the reels.

When I Play Secret Ruin, How Many Free Spins Will I Get?

You can get 10 free spins or 15 free spins. Thirty free spins are the maximum.

What Is The Number Of Paylines In Secret Ruin?

This online slot machine makes up a grid of 5 x 3 lines and nine fixed paylines.

Where Is The Best Place To Play Secret Ruin Online?

Here are the online casinos where you can play Secret Ruin:

Voodoo Dreams

Casino.com

Leovegas

888

Casumo

Videoslots

Spades Planet

MrQ

The Secret Ruin Slot Belongs To What Category Of Slot Games?

It falls under the video slots category.

What Is The Maximum Payout?

It's possible to win up to £450,000 playing this slot game.
Was this content helpful?
Thank you for your feedback! We will do our best to improve this content!