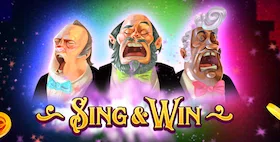 Overall
0





Graphics
0





Bonuses
0





RTP
93.33





Maximum Bet: 450
Minimum Bet: 0.015
LVbet Casino Bonus
Bonus up to

1000€

+

1000

free spins
Get Bonus!

Sing and Win Slots Review
Here is your chance to experience the feeling of a classical music orchestra while spinning away on the reels. This online game is played on a standard 5 x 3 reel with a 15 noteworthy payline. Released on the 21st of September, 2021 by Intouch games partnering with Slot Factory software provider. With the excitement of getting that jackpot at any time, this game will have you hooked in no time. Catching Free spins or bonus symbols will be your main goal for moving up on your winnings. So step on stage, and prepare to be amazed by the note-worthy reels and award-winning credits.

What We Like About this Online Slot
Sing and Win will have you wanting more with the free spins and wildcards that take the place of any needed number when in the right place. The symbols that take over increase your chances of hitting that progressive Mega Jackpot which is almost always guaranteed, and then not to mention the payouts that can be withdrawn from your cashable credit account. This game will keep you enthused, as the singing aspect is something different and exciting that keeps the game more entertaining for longer.
Where to Play Sing and Win For Real
Top Features:

24/7 Support

Available on low Internet speeds

Large selection of games
Get Bonus!

Suppose the gambling bug bites, and you want to turn your credits into winning real money. You will need a device running iOS 11 or Android 5.1 to sing along with this fantastic slot. You can play this game on any online casino forum which has a legal license to play on and is legitimate, then get up and running. You can buy credits once linked to your credit or debit card and start playing for real money through this forum.
Sing and Win Theme
The stage is set with a live orchestra and unique singing voices, and all are displayed on a 5×3 reel screen. The background is portrayed as a stage with a scroll in the middle and the theme engraved on it. The low-paying card symbols are from 9 through to A, with the higher paying symbols portrayed as the Oprah singers, and in between, you will find the free spin cards and the wild card. They are making this an experience worth trying.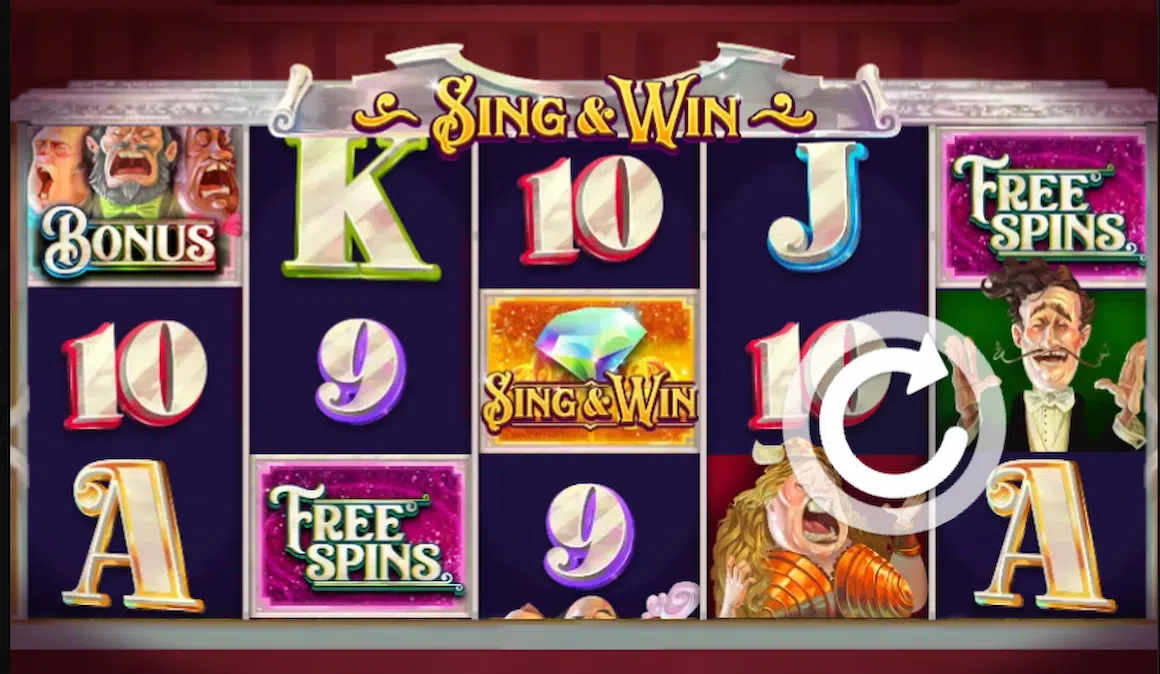 Sound and Soundtrack
When starting on your Sing and win journey, the music makes you feel like you are at an opera house with all the colourful and fanfare associated with the excitement. The more you win, the more they sing. It's like something you have not heard before. It keeps you intrigued and wanting to play more. If you want to play the game without the music playing in the background, then you can mute the music. You can visit the settings on the main screen to mute the music. Otherwise, you can turn down the volume on your device to mute the background music.
Bonus Feature
Sing and Win has six fantastic bonus features that keep the game entertaining. You can read more about them below.
Free Spins
Keeping true to the online slot game, the more lines with free spins, the more singing you get. When you get the free spins in the win line, they get duplicated depending on the number of free spins, allowing you to earn more coins while saving your credits. Keep in mind the current bet you are on when you activate the free spins is the bet that will be used in any credits accumulated.
Progressive Mega Jackpot
This innovative feature allows you to grow your jackpot by having the symbol on one of the lines, filling in the progressive pot. This bonus feature can be won on any available bet and is the game's primary goal.
Reel Wins
Striking a winning cord is key to a reel win. Striking the winning cord will take certain combinations of symbols and payout big. When these are activated in the win line, your songbirds will be dealing out the biggest spins and wins. It might be tedious, but studying your payout table will be an advantage when you start winning big with these reels.
Wild Symbols
Your wild symbol is the top artist in the show. It can help replace certain symbols, such as J+J; if it is in line, you have just added your third J and scored some big points in place. This symbol is right on the beat when helping you get more combinations for each spin, increasing your chances of winning more lines and higher winnings. This is the best artist for the position and your best bet in increasing your credits faster.
Gamble Feature
The gambling option can spice up your game by adding additional choices to your game with extra chances to win. Upon making a choice, you can spin the wheel, and with luck on your side, hitting a match can multiply your winnings. If you are unlucky, then you'll lose the amount you were betting. Excellent addition to the spinning wheel is the "?" card which can activate a second wheel that can allow you to get another chance at winning.
Mini-Game
Extra entertainment has been added to ensure you get all the bonuses this game can give you. Hitting three tenors by getting two basses or more with bonus symbols can launch you into a mini-game. The tenors will sing with a beautiful symphony, producing a blue, green or red box, surprising you with extra spins or wins. While the tenors are hitting their highest notes, money will be added to your winnings and continue to be added until they finish the high notes. When the lovely song is all finished, you'll return to your game to continue the enjoyment of trying to get another one.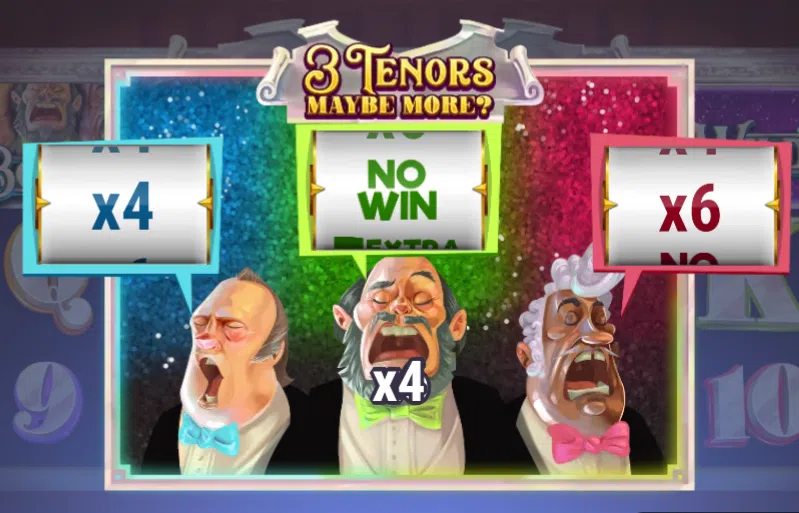 Pros and Cons
We have compiled a list of some of the pros and cons you can expect to find while playing this online slot.
Pros

The game allows you to win real money

The Demo helps you practice before spending any of your own money

You can grow a progressive Jackpot

There are no wagering slots

With this game being a new release, the features are constantly approved with feedback
Cons

The game is not available in many countries yet as it's very new

The money payout options are very limited

It's not available on all electronics
Tricks to Sing and Win
A few tricks that can help you with Sing and Win are:
Before opening your account to play online, make sure you understand the demo version.
Study the paytable; the more knowledge you have about what you need and the payouts, the better.
Stick to your budget; overspending money is always a bad idea.
Aim for the smaller jackpots, and it is always better to get something instead of nothing. The smaller jackpots might not be too appealing but are more realistic than the bigger ones.
Read the terms and conditions of Sing and Win before starting to play to familiarise yourself with the withdrawal details and many other needed information.
You can change your initial bet amount by clicking on the betting button in the lower right corner.
Once you are ready, you can spin the reels by clicking on the spin button.
RTP of Sing and Win
The Sing and Win slot have an RTP of 93.33%. The RTP rate informs players what average return to expect when playing a specific number of spins. Sing and Win is an excellent slot for beginners or seasoned slot veterans.
Should You Play Sing and Win
This gameplay has unique visuals, high-quality graphics and an exciting soundtrack, making this a pretty rewarding and popular online slot to play. It has a progressive jackpot payout with no wagering rules, adding to the game's attraction.
Software Provider
Sing and Win is a product of Intouch Games and Slot Factory, an examining provider founded in 2001. The company operates from Europe in the UK and initially only concentrated on physical slot machines and jukeboxes. In 2006 Intouch moved from physical slot machines to the online industry, where slot machines can be played on mobile devices as their applications consist of HTML for desktops, iOs, and Android. Intouch created new offers for more than 130 games with numerous bingo, poker, and blackjack categories.
The company designed the games to offer the users a unique approach to ensure each user receives the best experience from playing. The software provider partnered with many online casinos, including LeoVegas, and allows for playing in several continents, with its games available in many different languages. Intouch is licensed by the UK Gambling Commission and holds a legitimate certificate from GamCare.
How To Play For Real Money
Having the option to play in a demo mode is something that not all online slots offer, making Sing and win a unique game to learn before you play for real money. Once you have enough confidence to start your online journey, you will be required to open a cash credit account where you will link it to your debit or credit card. Remember that you'll have to have accumulated a few pounds before doing a payout to make the money value worth your while.
Everyone gets carried away at times, especially when you lose track of how much you have gambled away, so make a note to stay within budget and try and aim for the smaller jackpots instead of going for the Progressive Jackpot to make your chances of getting a jackpot higher. Knowing what you are playing gives you a big advantage when playing with any real money. Make the symbols a part of your life; the more you know and understand, the more real money you stand to win.
How To Play For Free
This game is available at online slots for free, where you can learn to play the game before attempting the real money game.
Opening and playing the game is easy; follow these few steps:
Go to any online site that has this game in its portfolio.
Click on the game icon to open it.
Once you are in the game, you will find the best icon on the bottom left-hand corner; click on the icon to open it and adjust your bet accordingly to what you want to bet.
On the bottom right-hand corner is the icon showing three bars; by clicking on this, you will find the paytable information and the sound adjuster.
On the right-hand side of the screen, you will find the round button to start the game. The round button can be moved around by clicking and holding it in place to move it.
You can play this game for as long as you want until you are ready to start the money game.
You can change your initial bet amount by clicking on the betting button in the lower right corner.
Once you are ready, you can spin the reels by clicking on the spin button.
5 Casinos Where To Play Slot Sing and Win
Finding a casino to play this online slot title can be rather daunting, as you might not know which is the best. Below you can find the top five casinos where you can play this title.
Final Thoughts
As with all new games, it's always exciting to find something new that catches your eye or, in this case, your ear. With this game being compatible with mobile phones, tablets and computers, you can relax at home and enjoy this fun and exciting game in your own time. There is no known volatility giving this game a thumbs up for beginners and high rollers alike.
Sing and Win FAQs
Choosing an online casino site that checks all the boxes and has a high-security check ensures that you don't have to worry about Sing and Win slots not being safe to play.
Intouch Games and Slot Factory created all their games to be compatible with mobile devices, desktops, and tablets as they created the games to have HTML5.
The noteworthy slot comes with standard 5 x 3 reels.
No, the UK gambling licence provider prohibits any Autoplay feature in their online casino games.
Your minimum bet per spin for each real can be £0.015.
Your maximum bet per spin can be set at 450 pounds.
Yes, there is a progressive jackpot with a starting value of 100,000 pounds available on this game.
The online slot comes with a 15 pay line giving you ample opportunities to win while playing.
The slot was created by Intouch, a licensed game provider founded in 2001. Intouch operates mainly in Europe and has partnered with numerous online casinos. You can expect a safe and fair experience when playing this slot.
This game has a maximum payout of 500x for your original bet.
Yes, free spins are awarded in lines three, four and five in any order on the winning line with five, seven or nine free spins.
A demo of the online slot game is encouraged before spending any real money, and it's also noted before any download that you have to verify you are 18+.
Yes, this online slot provides you with a welcome bonus when registering to play for the first time. You can get up to 10 pounds when registering for the first time without depositing any amount; if you have played before, you can get the opportunity to get a seven pound bonus when referring a friend to play as well.
We have five reels, three rows and ten pay lines. If you get at least three identical symbols in any of the 10 pay lines, you stand a chance to win.
It's advised not to play 24/7 as you need some sleep, but if you want to play this online slot anytime you wish, you can as the online slot is mobile compatible.
Yes, Sing and Win have a video slot.
Yes, the winning results are entirely random to ensure there is no cheating or incorrect winnings.
The decision would be entirely up to you, you may want to play a game with winning frequent small awards, or you can play a game where you can get an elusive payout. A progressive jackpot is where the slots bet money keeps on growing.
Sing and Win won't force you to deposit any cash to play the game. You have the option to play the game for free, just for fun. However, if you want to earn real money, you need to deposit money upon registering.
Yes, as soon as you meet the criteria, you will be able to withdraw the welcome bonus. You need to read the terms and conditions to ensure you withdraw within the time limit you have to claim the bonus or withdraw the bonus.