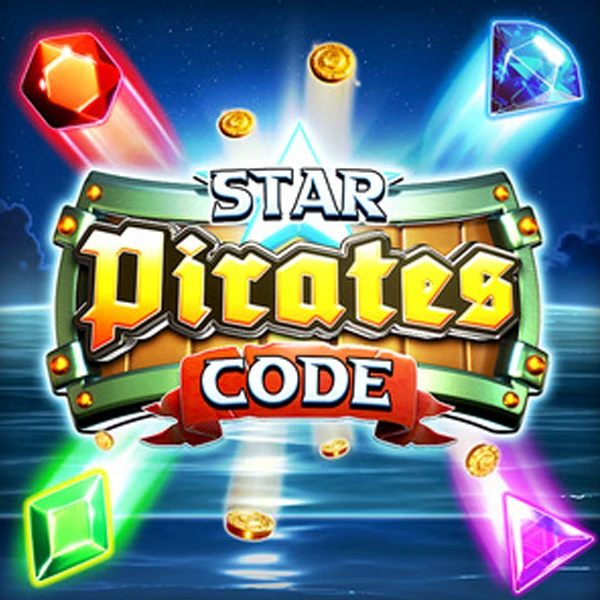 Overall
3.75





Graphics
4





Bonuses
4





RTP
96





Maximum Bet:
Minimum Bet:
LVbet Casino Bonus
Bonus up to

1000€

+

1000

free spins
Get Bonus!

Experiencing a pirate adventure by sailing onto the ghostly ship of the Star Pirate Code slot is one exciting journey. Many treasures await beyond the seas, and the only way to get them is to hunt them. How intriguing! Will you come with us on our voyage?
Star Pirates Code was released in October 2021. Since then, their gamblers testify that it is a slot game containing both attractive and interesting themes, as well as features forecasting unusual and mysterious treasures and meaningful stones. Have a look forward, and you shall behold the rest!

What we like about this online slot
What we like the most about Star Pirates is the colourful, beautiful symbols on the grid. Pirates, skulls, treasures, and gems are a whole lot of interesting things to find on the adventure. Without forgetting that Star Pirates has a normal RTP rate of 96.74%, which means that participants have great chances of winning big. As they play safe, they might receive more and more rewards.
Where to play Star Pirates Code Slot For Real

There are multiple online casinos that have Star Pirates Code Slot. Search for the slot game, and you will find various sites on your page offering you to play for real. Most of them have bonuses and gripping promotions. Once you have checked out most of them and have decided to play for real, you may press that bubble, and from there, you will be led on your voyage.
If you are uncertain or want to reconsider, an alternative would be to try the game slot 'for free.' This option will help you to improve your skills in gambling before you may decide to play for real the next time.
Star Pirates Code Slot Theme
Star Pirates has a three-aisled and five-reeler layout with ten payouts. Its reels are wooden, framing a red background. At first, when none of its features is activated, its design looks quite plain, but still rather intriguing. However, once its symbols, wilds, and other features are soon activated and shown on screen, it is a burst of colourful awesomeness.
The symbols seem to add playfulness to the game slot with their different colours and shapes. We have the red, blue, green, and helio jewels, with an addition of silver and gold coins. Last but not least, we have the treasure chest with the most top value, worth a stake of 15 times for shielding a whole payline. Two other symbols include a skull (wild symbol) which can replace regular symbols, and the other one forecasts the wild compass, which changes some impressive benefits at times it lands.
Sound And Soundtrack
Such a game must have boring sounds! Star Pirates Code comes with an energetic and upbeat soundtrack that flows through the game and makes its themes and features exciting with its additional sound effects. It makes you feel powered and have a sense of focus. There is no denial that you may enjoy the vibe of the game.
However, it does not really match the theme of the game as what we would expect, but a louder dramatic soundtrack is played when the view has been landed with the compasses, which we love.
Bonus Feature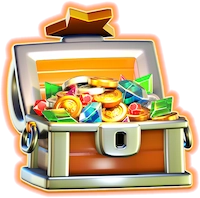 Before going into the bonus features, note that Star Pirates Code doesn't have any free spin features. However, there are other bonus alternatives for gamers, listed below:
Free Spin Feature:
This popular feature assists gamblers in unlocking more rewards as they keep using the free spins. Gamblers gain more victories by matching more than three symbols on the reel. But unfortunately, Star Pirates Code does not have a free spin feature.
Money Respin Feature: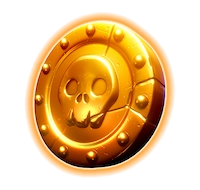 With this feature, you will get jackpots; it could be a mini, major, or grand jackpots. It all depends on how invested you are in the game. You can receive a jackpot prize by matching three and more coin symbols in the reel or all reels.
Also, we find a wild compass feature in Star Pirates Code; it is specifically used for this game, as it is used to get you some respins. First of all, it should happen that the compass should rest on the second, third, or fourth reel of the game with its needle spinning in different directions. Once it stops spinning and is positioned either in a perpendicular, parallel, or slant direction, wild symbols will envelop those positions. Therefore, you will be given a respin award.
Respins are unpredictable, for it happens automatically while the wilds are locked. If, during a respin, new wild compasses land on the reels, there will be another respin occurrence. A +1 times multiplier will be received only if the wild compass is aimed at an unlocked wild symbol already existing.
Pros And Cons
Below, we have outlined the pros and cons we came across when experiencing Star Pirates Code.
Pros

Chances of respins are available

There are two different special wilds

Respins may have multipliers

The slot has an average RTP of 96.74%

A stake of up to 2,500x can be won
Cons

Star Pirates Code slot does not have a free-spinning feature

Look out for RTP ranges

Low maximum of winning
Tricks of Star Pirates Code Slot
Mastering basics are essential for gamblers to be victorious consistently. Skills make one's abilities increase, as well as creative thinking, which comes in very handy. The best trick for being a gambler is to have enough knowledge of the slot game. Therefore, before playing the Star Pirates Code slot, here are a few tips:
Read comments and reviews to have additional information.
Get to know the original source from where the casino game slot was created. You will be able to decide whether you trust it or not.
Go for the demo. The demo lets you play for free, letting you give a try to test the game. It is installed with fake money and does not allow real money for the bets. Once you have tested this and have learned most of its settings, you are ready to try the real bet.
Once playing with real money, be wise enough not to put back the profit you have made back into the slot. It is better for you to earn that profit than to lose luck and earn a loss.
RTP of Star Pirates Code slot
RTP refers to the percentage of money paid back to players after some time for their investments in the game slot. Star Pirates have an RTP average of 96.74% but may also depend on other sites with varying percentages.
The level of volatility is medium and is fine for players who want to take bigger risks and earn better profits.
Should You Play The Star Pirates Code Slot
One of the best aspects to find in an online casino is game slots. Investing an amount of money, whether it might be small or big, may linger your chance of winning bigger prizes. However, you may also lack a chance of winning. It all depends on your luck!
Instead of going all the way to a casino, you are able to play online on whichever device you prefer to use. It is genuinely faster and saves you from spending less time on the road. Online slot casino games are available during the whole week but actually may depend on the time set up by some sites.
Star Pirates Code slot has interesting themes and features which would be considered to try out. It is honourably recommended to safe players, but one simple piece of advice would be to check various sites with the maximum RTP.
Software Provider
Pragmatic Play is the software company that has provided "Star Pirates Code" in collaboration with the Reel Kingdom on the 25th of October, 2021. It was founded by Julius Jarvis in 2015 in Sliema, a city in Malta. This company has been successfully built in several countries in Europe and Asia. It is also well recognised in the iGaming industry.
It is an ahead content provider and designs progressive videos with an additional list of table games using HTML5. It offers more than a hundred multiple portfolios such as modern classic slots, tables games, lucky cards, and many games of what you would expect of a casino.
This software company has released over 150 online casino games in thirty-one languages. We, as a result of this, introduce you to; Wolf Gold, Heat, Joker King, Mysterious, Book of Fallen, Fruit Party, Wild West Gold, Sensational, Triple Jokers, The Hand of Midas, Roulette Crystal, Gates of Valhalla, Clover Gold, The Dog House, etc.
How To Play For Real Money
Once you choose your online casino site preferable to play Star Pirates Code, you may press the option reading 'Play for Real' or 'Real Play.' It will start loading, and then you may set the amount of cash you want to bet with. Afterward, click or touch the Spin button for it to start spinning. Trigger the auto-spin with a fixed amount by then pressing the Auto-Play button. This last step depends on whether you want to do it or not.
The betting ranges from a minimum of £0.10 up to a maximum of £250 if you are willing to chase the highest stake amounting to 2500x your betting amount. You will have ten chances to win in the game, and keep a lookout for some of the game's features.
How To Play For Free
Playing for free is almost similar to playing for real. The only difference when playing for free is that you are not betting with real money. Instead, you are given the opportunity to experience what the game is like. Some sites will let you play Star Pirates Code for free without any registration or download needed. Otherwise, if you prefer to register or download, you are definitely permitted to do so. Just press on the Play for Free button, and you are ready to go!
It is pretty simple to play slot games. All you do is spin the reels and line a series of matching symbols to create winnings. If paylines are connected with the symbols, the player will earn cash – fake cash. Sometimes you may have symbols that rarely appear. Just gladly line the series of symbols up, and you will achieve higher winnings.
5 Casinos Where To Play The Star Pirates Code Slot
Are you questioning yourself which casino sites you would want to play the Star Pirates Code slot for free? Do not worry! Here we have mentioned at least five you may try to visit:
These casinos have the top factors to spot reputable online gambling like various games, live chat support, cryptocurrencies, other payment types, etc. You may be assured that you will find it helpful!
Final Thoughts
Star Pirates Code is a very interesting casino slot, and it is definitely worth trying to discover what adventures await. Its popularity has streamed through various sites and has been outlined in several reviews. The software provider of this game is known across many countries, so it may also seem trustworthy.
Your time to read through this page is highly appreciated, and we hope you get a chance to discover the Star Pirate Code slot anytime soon. This page has been written to provide you with helpful information that you might need in advance. However, if you decide to play the casino slot, may all the best luck be with you!
Star Pirates Code FAQs
Yes, it is safe to play because it has been regulated by its software provider.
Definitely! It is playable on any technological device, such as iPhones, tablets, desktops, and Android. The game is easily navigated because they created it with the latest HTML5 technology.
RTP stands for "return to player," and it refers to the percentage a player is expected to receive from their investments.
The RTP has a maximum average of 96.74%.
Julius Jarvis is the founder of the Star Pirates Code slot, which is provided by Pragmatic Play software.
The provider of this online casino game was created in 2015.
They have created over 150 casino slots.
Yes, you will see that most sites have an option for you to play for free. Otherwise, it will say Demo, which means the same thing!
Well, it depends; if you want to bet real money, you'll have to register, but if you only plan to play Demo mode, you can register if you want.
You can play Star Pirates Code in VideoSlots, 888, Leovegas, etc.
The bet is ranged from a minimum cost of £0.10 up to a maximum of £250.
Yes, the jackpot is under only one feature, which is called the Money Respin Feature.
The wild compass is a trigger to the Money Respin feature.
Bright and colourful symbols lay on a three-aisled and five-reeler board with wooden trims.
The soundtrack has an energetic and rhythmic beat which makes the game more exciting.
The volatility is medium average which is likely beneficial for safe players.
Unfortunately, there are no free spins. Although, this game has beneficial rewards given from the Wild Compass Respin round.
A similar slot would be Jolly Roger 2 Slot, which has also been created by Pragmatic Play.
No, this online slot does not provide any progressive jackpot.