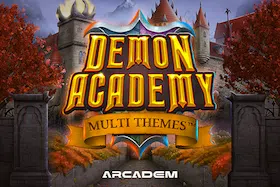 Demon Academy Multi Themes
Overall
0





Graphics
0





Bonuses
0





RTP
96





Maximum Bet: 100
Minimum Bet: 0.25
This slot game will be available soon
Darkness is calling you. The Demon Academy slot game by Arcadem promises to be a devilish delight for online gamblers of all kinds. With a medium variance and 96% RTP (return to player), this online slot makes for a colourful and somewhat naughty gaming experience. You know you have it in you, so why not give it a try?
While the bonus features aren't exactly what we would want them to be, you do get a wild symbol, and your maximum winnings can be up to 347x your bet. The game is a visual marvel that changes seasons, giving you a beautiful variation of graphics and 12 different symbols.
Are you ready to dance with the devil? Let's travel down into the underworld and see how the students of evil can win you some big prizes. Don't be late for your first class!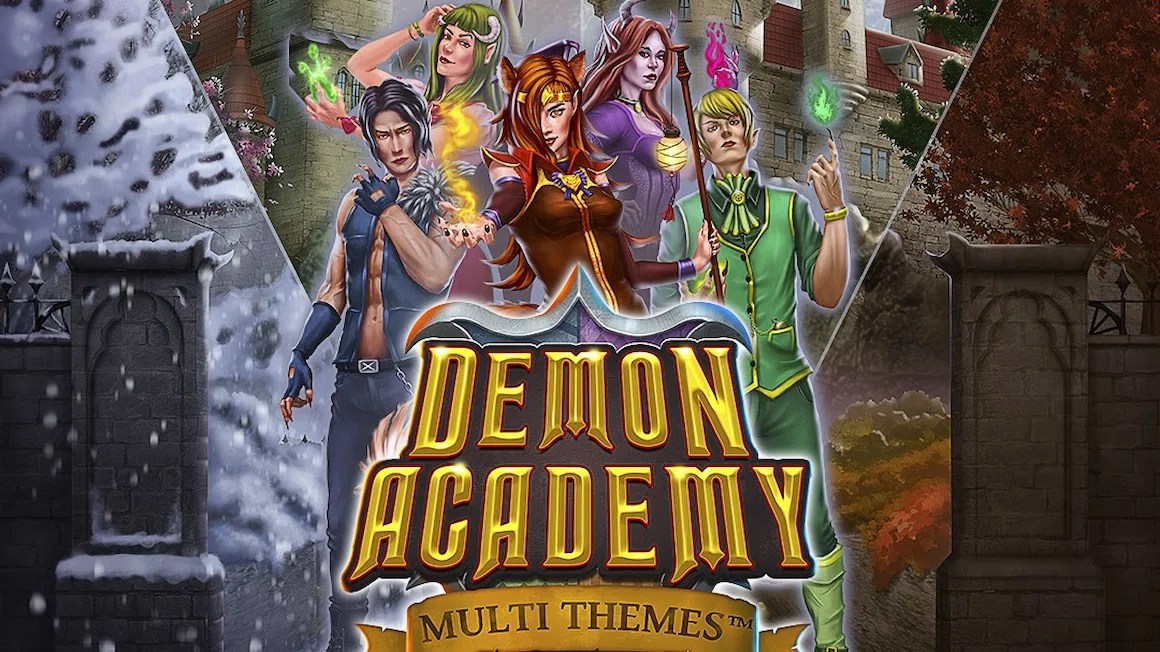 What We Like About this Online Slot
Demon Academy Multi Themes is an intriguing but accessible slot game. The RTP and variance are at reasonable levels, and the game provides excitement for both experienced and new players. The alternating seasons provide continuously changing imagery that is both impressive and entertaining.
The winnings are reasonable. At 347x your bet for a maximum win, you can win a fair (although not large) amount of money while having a good time.
Where to Play Demon Academy Multi Themes for Real
You can play this game at most online casinos. Simply type the name into the search bar, and you should find it in the results. You'll find a list of recommended casinos in this article that can be trusted. Register with one of them to start playing for real money.
Top Features:

Instant play

Large selection of games

Great selection of table games
Get Bonus!

888casino

4.82/5
888casino Review
Top Features:

Great reputation

Large selection of games

Generous welcome bonus
Get Bonus!

Kineko Casino

4.6/5
Top Features:

Crypto Casino

Lots of sport-specific promos

23 languages available
Get Bonus!

Demon Academy Multi Themes Theme
Demon Academy Multi Themes has a mediaeval theme and takes place in a school for evil. The various studentsーdifferent kinds of demonsーact as the symbols alongside playing cards from 10 to ace. The students represent the higher-paying symbols, while the cards are lower-paying.
As the school goes through the four seasons, you'll see that the setting and the characters' costumes will change for warmer or colder weather. This gives the game a shape-shifting quality, with beautiful, detailed brown leaves for fall and snow for winter. Forget those boring slot games that always end up looking the same. Demon Academy Multi Themes puts on a show to remember.
Sound and Soundtrack
The soundtrack takes a backseat to the rest of the game. In contrast to many games that have booming, ear-splitting sounds, this music is soft and unintrusive, and the sound effects are the typical kind you might expect from an online slot. This is perfect if you prefer a game that's on the quieter side.
Bonus Feature
Demon Academy Multi Themes is more of a base game that doesn't bother with many extras. Because of this, there aren't many bonus features beyond the wild symbol and the synchronised reels. Still, these features aren't to be dismissed.
Wild Symbol
As with most online slot games, Demon Academy Multi Themes has a wild symbol, which is the school emblem. This symbol substitutes all other symbols and can help you to win big.
Synchronised Reels
With each spin, two or more reels will duplicate each other, making it easier to win. The more synchronised reels you get, the higher the payout.
Pros and Cons
You can't keep everyone happy, and nothing is ever perfect. These are some of the pros and cons players have pointed out.
Pros

Some of the things we like about this game include the colourful graphics, the wild symbol, and the synchronised reels

We also like the 96% RTP and medium variance

Above all, the visual experience is what truly sells it
Cons

The lack of bonus features is really unfortunate

The winnings aren't usually very big, and there is no gamble feature

In general, some consider the game to be too plain
Tricks of Demon Academy Multi Themes
Because there aren't many extra features, Demon Academy Multi Themes relies mainly on chance. In other words, the trick is to keep trying. The game is straightforward in that you just have to push the spin button. Always remember to play responsibly and not bet too much of your money. This game is designed to be fun, and you should play it for enjoyment.
RTP of Demon Academy Multi Themes
Demon Academy Multi Themes has an RTP of 96%, which is a solid average.
Should You Play Demon Academy Multi Themes?
We would never try to tell you what to do, but yes, you should! This is a fun, uncomplicated game for players on all levels of experience that isn't going to take a lot of learning. If you enjoy slots and have a soft spot for anime and mediaeval times, then this might be right up your alley.
Software Provider
Demon Academy Multi Themes was created by Arcadem, a software provider that prides itself in creating games that marry the nostalgic with the futuristic. This is evident in Demon Academy Multi Themes' design, which combines mediaeval times with modern anime. You can find many of Arcadem's games at all good online casinos. It is a licensed gaming provider and follows a strict protocol.
How to Play for Real Money
If money is the root of all evil, it only makes sense to play Demon Academy Multi Themes for real cash. In order to play for real money, you'll have to play the game through a trusted online casino. If you aren't yet a member of one, you can simply pick one of our suggested casinos and register there. You'll have to fill in some personal details but don't worry. They'll keep it safe.
After registration, you'll be able to deposit into your gambling account, and if you're using a good online casino, you'll probably get some welcoming bonuses. Once you're a member, you can search for the game in the casino lobby and start playing.
How to Play for Free
If you don't want to play for money yet, that's absolutely fine. All good casinos offer you a free demo option to play before you play for money. We recommend that you always play a free demo first before betting real money to see if you like the game. After all, there's no use in spending money on something you don't enjoy.
5 Casinos Offering Demon Academy Multi Themes
Are you intrigued but don't know where to go? When playing online, you want to be sure of using a safe casino. Demon Academy Multi Themes is available at most online casinos. If you aren't registered to one yet, some of our favourites include:
Final Thoughts
Class is about to begin. Demon Academy Multi Themes proves that there truly is a slot game for every taste. Anime fans will love this colourful and constantly-changing slot game with its detailed graphics. RTP and variance are at stable levels, and the game is easy to understand.
While the lack of bonus features and free spins and the relatively low payout may be an issue for some, the graphics definitely work hard to make up for it. Arcadem focuses largely on creating online games with striking visuals, and Demon Academy Multi Themes is no exception. Even without all the extra frills, this is still a fun game that will keep you busy for hours on end. The Demon Academy is about to commence its school year. Will you be enrolling? After all, we each have a little darkness within us. Why not let it out?
Demon Academy Multi Themes FAQs
This is a regular slot game found at online casinos.
Arcadem released the game in August of 2021.
Yes. Arcadem manufactures a variety of games that can be found at all good online casinos. Arcadem is also a licensed software provider.
Yes, the game has a wild symbol that substitutes all the other symbols. The wild symbol for this game is the school emblem.
Unfortunately, this game doesn't offer any free spins.
The game has 12 symbols, some of which are students at the Academy and some of which are playing cards 10 to ace.
Yes. The game was created by Arcadem, a reputable gaming software company. As long as you play at one of the trusted casinos we recommend, you'll be perfectly safe.
The game has 243 paylines.
The highest winnings you can achieve are 347x your bet.
The variance level for this game is medium.
Yes, this game is available on all devices, including computers, tablets, and mobile phones.
Yes, this game is available at online casinos in the UK. Simply look at our list of recommended casinos to find the right one for you.
The minimum you can bet is £0.25, with a maximum of £100.
Yes, the game has synchronised reels, which means that with each spin, two or more reels will be the same and increase your chances of winning.
We pride ourselves in only recommending the best online casinos and games. You can be certain that they all work hard to keep all your personal information and money safe from prying eyes.
Because it has easy-to-follow rules, this game is suited to beginners and more experienced players alike.
Arcadem is a licensed game provider, and all the casinos we've listed are licensed as well. Therefore, they follow strict guidelines and don't rig any of their games.
Because this is a casino game, you'll need to be at least 18 years old in order to play it.
As long as you play the game at a licensed online casino and gambling is allowed in your area, it's legal to play.

Kristaps is an expert in the field of online casinos. Over time he has found himself as a gambling critic and analyst.
More info on kristapsgauja