Jungle Falls is a video slot developed by Inspired Gaming. It has a bet range of £0.20 to £100. You can win up to 2,500x your total bet in this slot game, which is a pretty high payout and could lead to big wins.
The grid used by Jungle Falls is a standard six-reel, eight-column grid. Instead of paylines, this casino game uses clusters of matching symbols to determine winners (also called cluster pays). Jungle Falls includes a variety of themes, including animals, fruits, and the jungle.
It offers multiple features such as cluster pays, cascading reels, increasing multipliers, retriggers, spin chances, symbol removal, switching symbols, wilds, and more.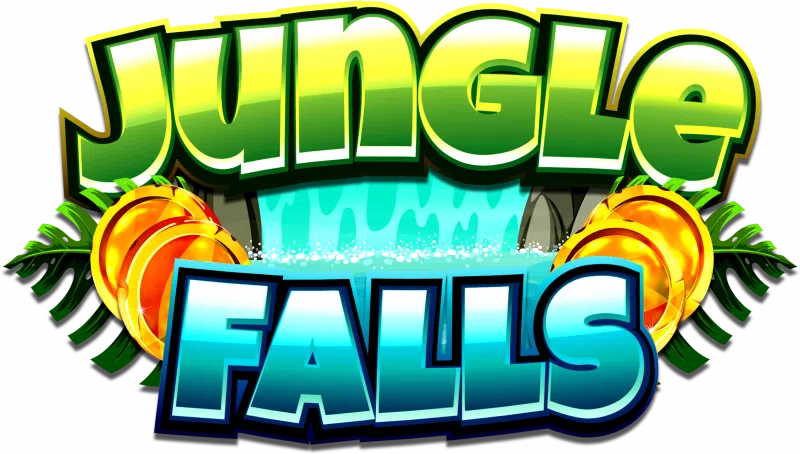 What We Like About This Online Slot
Several elements of Jungle Falls make you fall in love with it as soon as you come across them. If you hit the free spins bonus in the game, you can win a lot of money, which is usually where the big payout takes place. Another great thing about this game is that you can win as much as 2500x your stake, which is relatively high and gives you a reasonable chance to hit some big payouts.
Where to Play Jungle Falls for Real 
Reviewed and Verified by Marcis Licis

Get
100
risk-free spins on Book of Dead
Support service works 24/7
You can play even when the internet connection is poor
A solid variety of game and bonus offerings

Bonus up to
1000€
+
200
free spins
Instant-play
Table games and video pokers available
Impressive selection of slots
With our list of the best online casinos we've provided further below, you can legally play Jungle Falls slots online in the United Kingdom. In selecting each casino, we looked at reputation, game selection, bonus features, software supplier, payment methods, and the support provided by each casino.
Jungle Falls Theme
Jungle Falls' theme is unique. It is a fruit and jungle theme.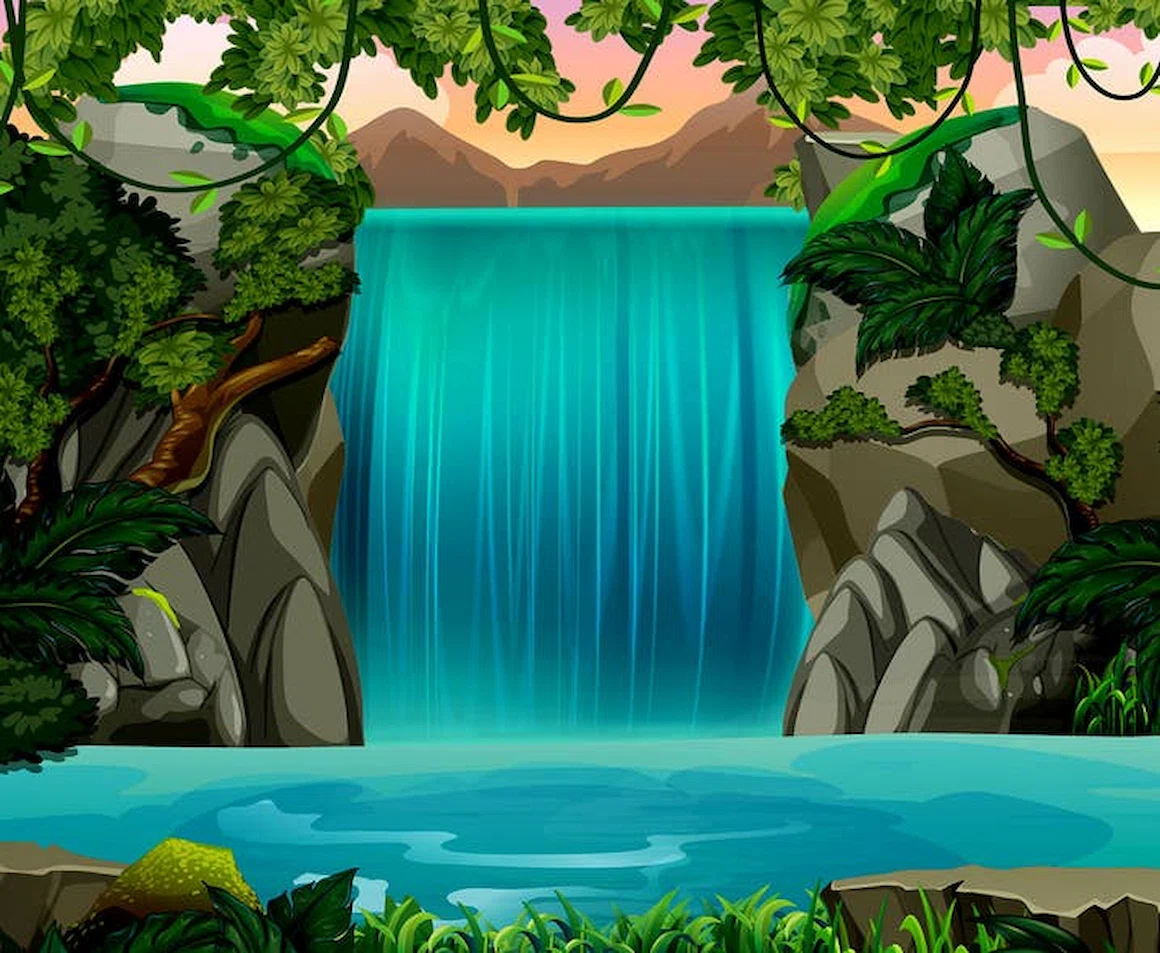 Sound & Soundtrack
The soundtrack is filled with inoffensive calypso songs. Calypso is a form of Afro-Caribbean music. The background music is quite pleasant.
Bonus Feature
Apart from being a video slot machine, Jungle Falls offers many other features as well. There are several bonus features that make this game far more interesting and exciting.
Cascades
Any symbol in the winning cluster is automatically removed, and any winning combination is paid. After that, all remaining symbols are dropped to fill the gaps. If there is an empty position beneath the waterfall grid, symbols above the waterfall will fall directly into the grid. Places that have remained empty are filled with new symbols cascading down. The process will be repeated if the cascade of new symbols results in any new winning clusters. This will happen until there are no more winning combinations.
Top Reel
As each spin is completed, symbols situated above the waterfall move one place to the left. This could lead to new symbols appearing on the right. The symbols that can appear are coins, wilds, and scatters.
Cascade Bonuses
You'll find a five-stage trail illuminated by cascades on the waterfall's left side. Upon completing all cascades, a bonus will be paid out if either stage three or stage five has been lit. Coins are washed down the waterfall in Rapid Run (stage three). You'll have the opportunity to add more coins to the grid as the game progresses. When Jungle Falls (stage five) is activated, the entire screen shakes, causing all the coins lining the grid and top reel to fall downwards into the bottom row and be awarded to you. Occasionally, extra wild symbols will fall into the grid as well.
Animal Extras
In the waterfall grid, there are three animals that can become active at any given time. The grid may change when one of the three animals surrounding a waterfall becomes active after a cascade.
Crocodiles can swim underneath waterfalls and grab a coin from the bottom of a column. New symbols are added to fill the space at the top where all the symbols above have fallen. Any wins resulting from this process are then awarded. Flying across the grid, the parrot may change the symbols in all positions in the same row. So, the parrot creates a winning cluster.
The monkey may remove all bananas in the grid. There is an award based on how many bananas are removed. Symbols will fall into empty spaces, and new symbols will be added to the grid to fill the space.
Free Spins
You'll receive eight free spins with three bonus symbols, and each trigger will award two free spins. The cascade wins are paid, and the multiplier increases by one after each cascade. The multiplier value multiplies the cluster, and the coin wins within the bonus to give you the maximum possible payout. Another free spins bonus round can be re-triggered by landing another three or more bonus symbols in the grid during the free spins bonus round.
Spin Chance
If the credit value falls below a game's current price but is still greater than zero, the system automatically triggers spin chance. With this feature, you can play with the remainder of your credit for a chance to win another spin.
Pros and Cons
Jungle Falls has its pros and cons, just like any other slot game. You can find them below.
Pros
Wilds and coins that drop down from the top
Cascade trail triggers two modifiers
Three random animal modifiers
There is a waterfall cluster pay grid with the top reel
Free spins with an infinite progressive multiplier
Animal special modifiers
Top reel
Easy to play for beginners
Minimum betting limit
Cons
RTP is slightly below average
No progressive jackpot
Low maximum bet limit
Tricks of Jungle Falls
The Jungle Falls grid has six reels and eight columns. Rather than paylines, it offers cluster payouts. Stakes range from £0.20 to £100. There are six symbols: bananas, oranges, strawberries, limes, plums and grapes.
You need knowledge of Jungle Falls slots if you want to be successful. Our experts offer these top tips to help you boost your chances of winning while playing games such as Jungle Falls, which are entirely random and based on luck.
Casino online – Join Today: If you've never played online slots before, joining a casino is the first step to playing Jungle Falls. In this review, we've listed the top online casinos. Select the one which suits you best and create an account.
Free Game/Demo to Practise: Before playing Jungle Falls for real money, it is recommended that you try out the demo version first. It would be best if you did not jump into the game expecting to win as soon as you start playing, but instead,  learn how the game works.
Study The Pay Table: Each slot machine has a unique paytable, and this applies to Jungle Falls as well. This pay table shows the value of each symbol. Additionally, you'll learn about the animal extras used in the game.
Maintain A Budget: Budgeting is one of the most important things you must do before beginning. Before spinning the reels, decide what amount of money you want to spend and stick to it. Once you've reached that amount, you should stop playing.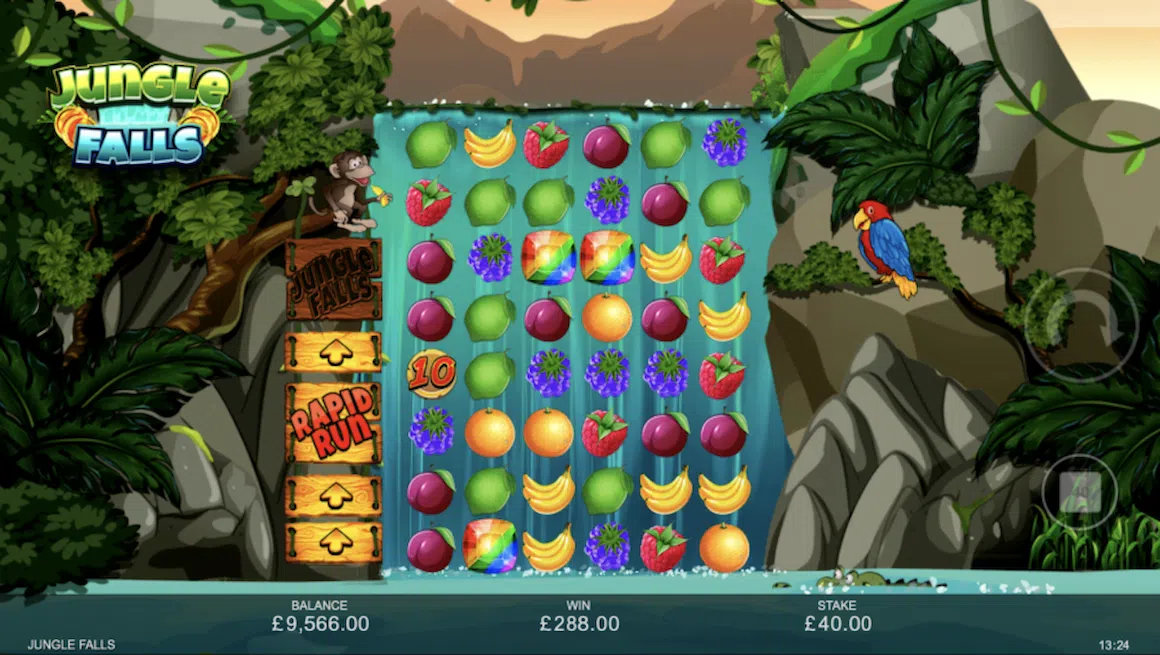 RTP of Jungle Falls
One can expect a solid RTP for Jungle Falls. There is an average return to player rate of 95.18%, which is a pretty good score.
Should You Play Jungle Falls
Yes, you should. There is no longer such a thing as a three-reel, one-payline video slot. The progress we've seen in the last decade seems astounding, especially since online versions were introduced. The slot title Jungle Falls is another example of how much more slots offer today, adding to the thrill features like cluster pays, avalanche reels, free spins, multipliers, and an additional reel that sits on top of the existing six reels. All these features are packed into one game.
This game was developed by Inspired Gaming, who were indeed inspired when creating Jungle Falls. Players can enjoy the avalanche reels. There is a potential win amount of £250,000, which is impressive if you are successful.
Software Provider
Inspired Gaming is the provider of Jungle Falls. Inspired Gaming is one of the leading developers of online slots. This company has been around for a long time and offers its games worldwide owing to its strong in-house resources. It is a trusted developer with a compelling product. They have many well-designed slots that are entertaining to play.
How To Play for Real Money
Jungle Falls is only accessible via the internet, so you'll need to open a casino account, log in to your account, and follow the steps below to play for real money:
Set your stake: You can adjust your wager amounts and lines by pressing the '+' and '-' buttons located at the bottom of the screen. Once you've done so, You'll adjust your total bet. By default, the value is set to £1.
Check the game information: You'll find all the winning combinations and the multipliers for each symbol there. The game information can be found in the left-hand corner of the screen under the menu.
Know how the game works: Jungle Falls takes place on the 6 x 8 grid. The goal is to create horizontally and/or vertically connected clusters of at least five matching symbols; winning combinations will disappear as more fall and replace them, causing the cycle to repeat. Wild symbols, coins, and multicoloured gems are special symbols. The only regular symbols are bananas, oranges, strawberries, limes, plums, and grapes. The slam stop feature causes the reels to land more quickly when clicking anywhere on the screen during a regular spin but it doesn't affect the result of the spin.
Spin: Click on the spin button, and the wheels will start spinning.
You should always play responsibly and at a level that feels comfortable to you and stop when it becomes unenjoyable.
 How to Play for Free
Playing this slot online for free is merely a matter of following a few steps. The process is simple and quick.
Visit an online casino: Many of these casinos offer online slots which feature Jungle Falls.
Pick Demo or Practice Mode: You'll be able to select Play For Real or Demo based on the options available. Go to the Demo mode.
Set your bet size: You can adjust the amount and number of lines you wager at any time by using the '+' and '-' buttons at the bottom of your screen
To play, press the spin button.  Because it is a free game, you can refresh the screen if you run out of coins, and they will be replenished.
5 Casinos Where You Can Play Jungle Falls 
We've compiled a list of the top real money casinos where you can play Jungle Falls right now. With over 100 different slots, progressive games, and bonus slots available, You'll be able to play Jungle Falls right away at any of these online casinos.
Final Thoughts
Jungle Falls was developed by Inspired Gaming and specifically by Bell-Fruit Games. Compared to the typical Inspired Gaming slots, this slot occupies a unique niche. The construction of this game certainly makes it stand out from other jungle fruit games and makes it an excellent addition to the ever-growing number of slots available for casual players and dedicated ones.
The Jungle Falls grid consists of six reels and eight columns. Rather than offering paylines, it provides clusters of winning combinations. You can bet as little as £0.2and up to £100 per spin. Symbols include bananas, oranges, strawberries, limes, plums, and grapes.
Jungle Falls FAQs
Does Jungle Falls Have a Free Version?

Yes, it does. Right here on the casinos listed, you can play for free without any risk of losing any money. We recommend choosing casinos that have demos of Inspired Gaming slots (most of them do), so that you can play for free.

I Want to Play Jungle Falls for Real Money. Where Can I Find It?

You'll have to register at one of our recommended online casinos to play Jungle Falls for real money. Additionally, You'll receive a nice welcome bonus when you sign up as a new player.

Will Jungle Falls Give Me Big Wins?

There is a possibility of winning up to 2,500 times your stake on Jungle Falls. Consequently, you can earn at most £2,500 (when playing with real money) when you bet £1.

Are There Progressive Jackpots at Jungle Falls?

No. There is no progressive jackpot in this game.

How Can I Find Out More About Jungle Falls?

You can find all the facts and useful information about the Jungle Falls slot on this page. We've provided information such as features, RTP, variance, rating, and maximum win potential here.

Is Jungle Falls Safe to Play?

Jungle Falls is a safe game to play. The best way to play Jungle Falls safely is to find a reliable casino that offers the game.

What Is the Mobile Compatibility of Jungle Falls?

The majority of smartphones and web browsers are compatible. To play Jungle Falls on your phone or tablet, you should open your browser and go to the online casino that offers Jungle Falls.

What Is the RTP of Jungle Falls?

Jungle Falls has a return to player rate of 95.18%

What Is the Variance of Jungle Falls?

In terms of variance, the level is medium.

What Is the Biggest Win You Can Achieve?

There is a £250,000 maximum.

What Is the Function of the Special Symbols on the Top Reel?

The top reel can slide wilds and cash coins as high as 10x, and they will fall when a cascading win creates openings below. When coins reach the bottom, they will pay out, but wilds disappear.

How Does the Cascading Win Bonus Metre work?

You must get three or five consecutive cascades from the metre for it to function, after which the coins either move down a position or all the way down.

Does Jungle Falls Have a Free Spins Mode?

Yes, it does. You get at least eight free spins in the bonus round, and you can also win cash coins because the multiplier is unlimited.

What Are the Bonus Features of Jungle Falls?

Jungle Falls has several bonus features, including cascades, top reel, cascade bonuses, animal extras, spin chance and free spins.

Where Is the Best Place to Play Jungle Falls?

Jungle Falls is available at the following online casinos:

Duelz

Mr Green

Voodoo Dreams

Casino.comLeoVegas

Casino.com

Leovegas

888

Casumo

In What Category Does Jungle Falls Slot Fall?

Jungle Falls is categorised as a video slot game with cluster pay.

How Many Payline Does Jungle Falls Have?

There are no paylines in this online slot game, but it does offer cluster pays.

Is There a Game Similar to Jungle Falls?

The same company, Inspired Gaming, also provides many other games similar to Jungle Falls slot. These games include Fruity Bonanza, Scatter Drops and many others.

Spin Chance: How does It Work?

When the credit is lower than the current play price yet is still more than zero, it triggers the spin chance. With this feature, you can play with the remainder of your credit for a chance to win another spin.

How Does the Crocodile Animal Work in Jungle Falls?

A crocodile swimming beneath a waterfall may eat the bottom symbol from a coin-containing column. The symbols above are all pushed to the bottom. The empty spaces at the top are filled with other symbols, and the resulting wins are awarded.
Was this content helpful?
Thank you for your feedback! We will do our best to improve this content!